To be able to hack something is nothing without hiding your identify. For example , imagine that you hacked someones wifi and did not hide identify, in few days. Hacking Wifi. Networks On. Windows. Zweep Books. Skype:Superhero +91 M4DH4CK3R. 7/9/ Kevin. This is my first. 2 Wifi Standards and WPA Cracking. WiFi Security Visited on URL: prohanlanlika.ga wifi/hakin9 wifi prohanlanlika.ga
| | |
| --- | --- |
| Author: | DOUG HERMENS |
| Language: | English, Spanish, Japanese |
| Country: | Somalia |
| Genre: | Science & Research |
| Pages: | 181 |
| Published (Last): | 23.03.2016 |
| ISBN: | 161-6-29045-765-4 |
| Distribution: | Free* [*Register to download] |
| Uploaded by: | JODY |
---
60992 downloads
104689 Views
32.39MB PDF Size
Report
---
Here is a Free WiFi Hacking PDF that will teach you all about how the protocol works as well as how to hack WEP, WPA, WPA2 and WPS as well as how. The best document describing WPA is Wi-Fi Security - WEP, WPA and /articles/ hakin9_wifi/prohanlanlika.ga] to download the PDF directly. prohanlanlika.ga "work" by the hacker This article is your % lactose-free guide to hacking home Wi-Fi. By the end it's The router won't tell you the Wi-Fi password, but it will give up the password hash. A password hash.
Proceed only if your device falls under either of the below categories. Otherwise, it is waste of time and energy. For better results use Cyanogen ROM. Android Device should be rooted. Android Device should support bcmon App i. Tools Used: bcmon app[apk] -This tool enables Monitor Mode on your rooted device with Broadcom chipset, which is essential for hacking WiFi using android. Run bcmon. It may crash at first but keep trying.
In the browser, type The 1 in the last octet should point at the router—it's the number one device on the network.
Download Free WiFi Hacking and Defense (PDF Presentation)
At this point, the router should then ask for a username and password. You can check your manual, but you probably lost it or threw it away. So instead, go to RouterPasswords.
You'll need the router's model number, but that's easy enough to find on the back or bottom. You'll quickly see a pattern among router makers of having the username of admin and a password of password. Since most people are lazy and don't change an assigned password, you could try those options before hitting the reset button.
But c'mon, you're better than that—change the password when you access the router's settings via your web browser. Once you've accessed the router interface, go to the Wi-Fi settings, turn on the wireless networks, and assign strong but easy-to-recall passwords.
After all, you don't want to share with neighbors without your permission. Make that Wi-Fi password easy to type on a mobile device, too. Nothing is more frustrating than trying to get a smartphone on Wi-Fi with some cryptic, impossible to key-in-via-thumbs nonsense, even if it is the most secure.
Crack the Code You didn't come here because the headline said "reset the router," though. You want to know how to crack the password on a Wi-Fi network. Searching on "wi-fi password hack," or other variations, nets you a lot of links—mostly for software on sites where the adware and bots and scams are pouring like snake oil.
Download them at your own risk, for Windows PCs especially. It's best to have a PC that you can afford to get effed up a bit if you go that route. I had multiple attempts with tools I found just get outright deleted by my antivirus before I could even try to run the EXE installation file. You could create a system just for this kind of thing, maybe dual-boot into a separate operating system that can do what's called "penetration testing"—a form of offensive approach security, where you examine a network for any and all possible paths of a breach.
Kali Linux is a Linux distribution built for just that purpose. It's free and comes with all the tools you'd need to crack a network. It even now comes as an app for Windows 10 in the Windows App Store! If you don't want to install a whole OS, then try the tried-and-true tools of Wi-Fi hackers.
Aircrack-ng —labeled as a "set of tools for auditing wireless networks," so it should be part of any network admin's toolkit—will take on cracking WEP and WPA-PSK keys. It comes with full documentation, but it's not simple.
To crack a network you need to have the right kind of Wi-Fi adapter in your computer, one that supports packet injection. You need to be comfortable with the command line and have a lot of patience. Your Wi-Fi adapter and Aircrack have to gather a lot of data to get anywhere close to decrypting the passkey on the network you're targeting.
It could take a while. Here's a how-to on doing it using Aircrack installed on Kali Linux. Another option on the PC using the command line is Airgeddon. It's mainly known as a "sniffer" for seeking out Wi-Fi networks. It's the kind of thing we don't need much of these days since our phones and tablets do a pretty good job of showing us every Wi-Fi signal in the air around us. But, it can crack some keys with the right adapter installed. Also on the Mac: Wi-Fi Crack. To use those, or Aircrack-ng on the Mac, you need to install them using MacPorts , a tool for installing command-line products on the Mac.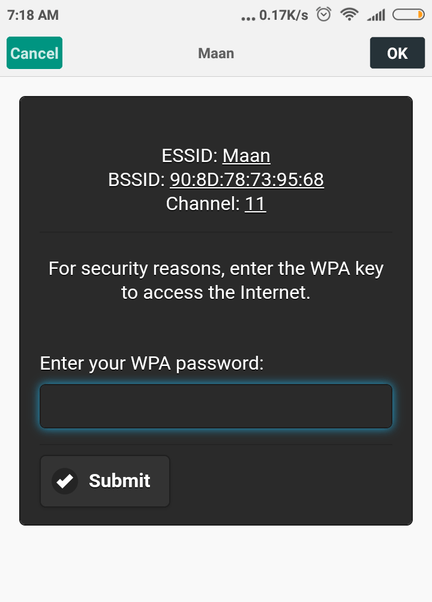 Reaver-wps is the one tool that appears to be up to the task. You'll need that command-line comfort again to work with it. After two to 10 hours of brute force attacks, Reaver should be able to reveal a password WPS is the feature where you can push a button on the router, another button on a Wi-Fi device, and they find each other and link auto-magically, with a fully encrypted connection. And the Wi-Fi needs to prove to you that it knows the password.
Download Free WiFi Hacking and Defense (PDF Presentation)
The trouble is, everyone else can hear you. Wi-Fi is broadcast as radio waves out of your device and router all the time.
It gets real tense. So, the secret handshake lets you and the Wi-Fi router both prove you know the password without saying it. You know the text, you know what it encrypts to, and you know how to do the encryption. This means that you can guess something as the key, and check if your guess was right. Then you know that the password was cooldad And if 3b5ef encrypts to something else, then you know your guess was wrong.
Party Animals.
Download Free WiFi Hacking and Defense (PDF Presentation)
They also happen to be really fast at encrypting stuff. Sometimes, the hackers release the passwords of everyone on the website at the time it got hacked. Sites that got hacked recently and had passwords publicly exposed include LinkedIn, Adobe, and Myspace.
You, a person with an internet connection, can find these lists via Google. There are two kinds of home Wi-Fi networks: JUST kidding click here for a fun time.
To give you an estimate of how long this takes, my computer can check 10 million passwords in about 10 minutes. Specialised computers overflowing with graphics cards can do this in seconds. You just plug the file containing the handshake that you got in Step 2 into hashcat, as well as your password lists. The main part is furiously guessing millions of passwords until we find the right one.
Because people pick easy-to-guess passwords. English word with the first letter maybe capitalised then one or two numbers? You can check whether your password has been stolen by hackers and published by browsing to https: This password would let you prove that you are your neighbour when talking to their ISP. You can cancel their internet all together. You can see their billing information. You are them.
First you open up the popular hacking software, Google Chrome, and go to Oh no! The password is just dots! Your hacking career is over before it started! Fear not, young keyboard warlock, for there is a deus ex machina that saves you in this cutscene. The password was under them all along.